Grenfell Tower Inquiry: Phase 1 Report issued
30 October 2019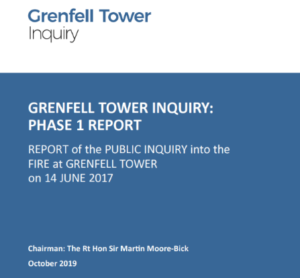 This report aims to understand what happened on the night of the 14 June in the Grenfell Tower: how the fire started, how it escaped from the flat where it began and how it spread across the whole building.
A key conclusion at this stage is that the façade failed to comply with building regulations.
Phase 2 of the Inquiry is focusing on the outstanding issues and hearings are expected to begin in early 2020, following which the final report will be written and subsequently published.