Environmental Sustainability of Plastics in Construction
Plastics have become increasingly popular in construction due to many factors, such as their performance, durability and their ability to be weathering resistant, low maintenance, cost-effective, lightweight and design flexible. These qualities make plastics ideal products for construction and an essential component for a sustainable built environment.
The numerous types of plastics all have different performance levels and properties, enabling them to meet the exact needs of diverse applications, from corrosion protection to thermal insulation.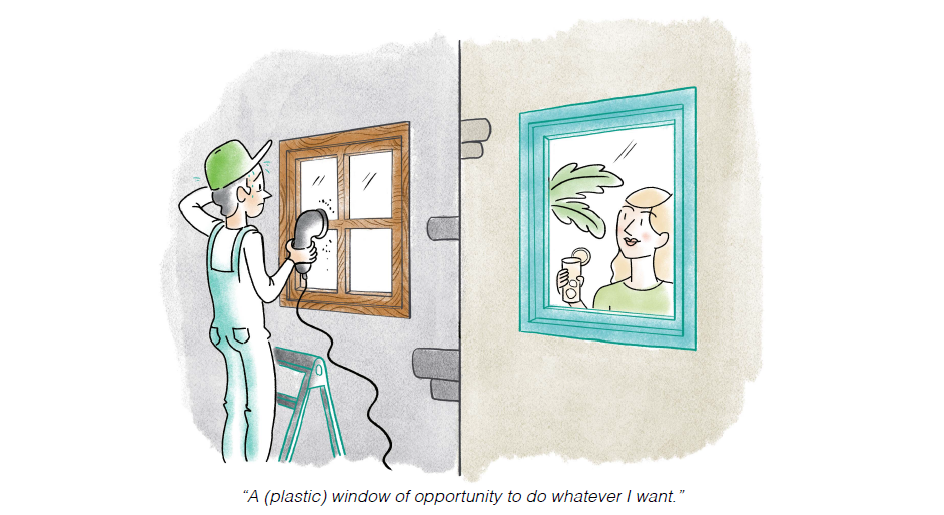 How do plastics contribute to a sustainable built environment?
An ideal construction product
Today, buildings are both the largest user of energy (40%) and, consequently, the largest emitter of CO2 (36%) in the EU.
It is, therefore, imperative to keep energy efficiency in mind when constructing and renovating buildings. The consumption of fossil energy during the use phase of a building is by far the biggest contributor to a building's environmental impact.
Energy-efficient buildings last longer, require low maintenance and guarantee the maintenance of the overall structural and thermal performance over time, securing a low-energy demand and, consequently, low CO2 emissions. This is where plastics for construction come into play. They are energy and resource-efficient and provide quality performance over a long lifespan. Moreover, they keep buildings dry and warm, ensuring comfortable living and working spaces, all while being cost-effective for the entirety of a building's lifecycle.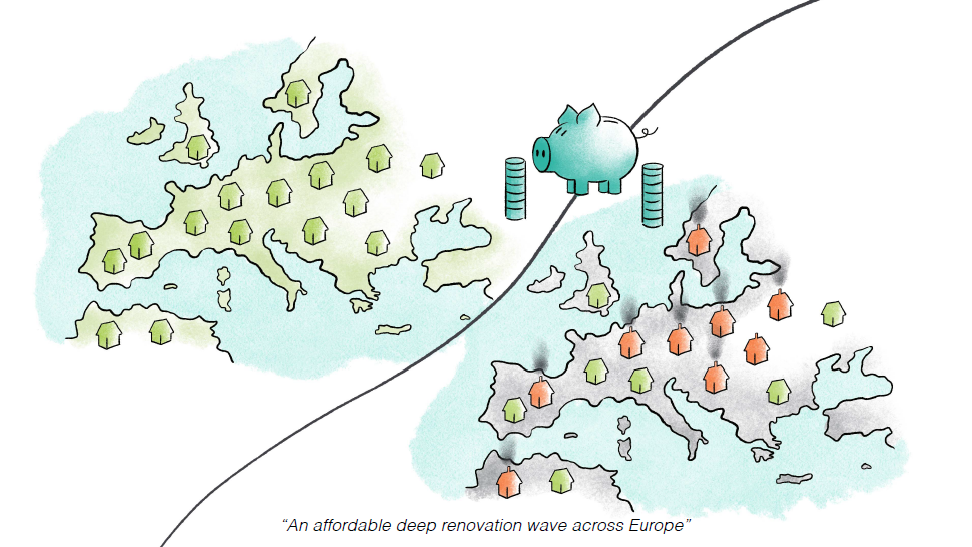 Long-lasting performance
Materials in a building are generally expected to last 30–50 years without alteration. Plastic materials can last even longer. For example, many PVC pipes installed more than 60 years ago continue to function as well as ever, reducing the need to manufacture new products.
Utilising plastic construction products ensures ease of installation, high performance and low risk of failure, meaning the long-term performance will not be affected by compression, infiltration or other types of physical degradation.
These are key design and specification criteria, as degradation of the performance over time, in particular in the thermal performance, would significantly compromise the environmental sustainability of the building.
Recycling
The durability of plastic construction products also means that they can often be recovered for future use or kept in place. For example, when an additional layer of insulation is applied on the facade or the flat roof of a building to improve energy efficiency, it is common practice to retain the first layer as it is usually still performing well.
Plastics, including those used in construction, can also be reused, recycled or recovered at the end of their service life. Across the EU, more than half of the waste from plastics in construction are diverted from landfills, either by recycling them or use in waste-to-energy plants. The energy saved across the lifetime of plastics used in construction outweighs the energy used in their manufacturing.
Find out more on our member, PlasticsEurope's website, as well as in their brochure, Plastics – Architects of modern and sustainable buildings.
Resource efficiency
The EU's current environmental policies for materials aim to reduce consumption, prolong material use, and/or eventually recycle them, stimulating a 'circular economy' approach. Thanks to their unique properties, polymers play an important role in achieving this goal.
When in use, insulation materials like phenolic, Polyurethane (PUR), Polyisocyanurate (PIR), Expanded polystyrene (EPS) or Extruded polystyrene (XPS) can save more than 200 times the energy used in the production process. Find out more about how these materials can boost the energy efficiency of buildings.
Additionally, phenolic, PUR/PIR, EPS or XPS insulation are usually thinner than the alternatives. This can reduce the overall size of a building and allow for buildings with more indoor space and daylight. It also means that more square metres of insulation can be transported in fewer deliveries, resulting in lower transport emissions.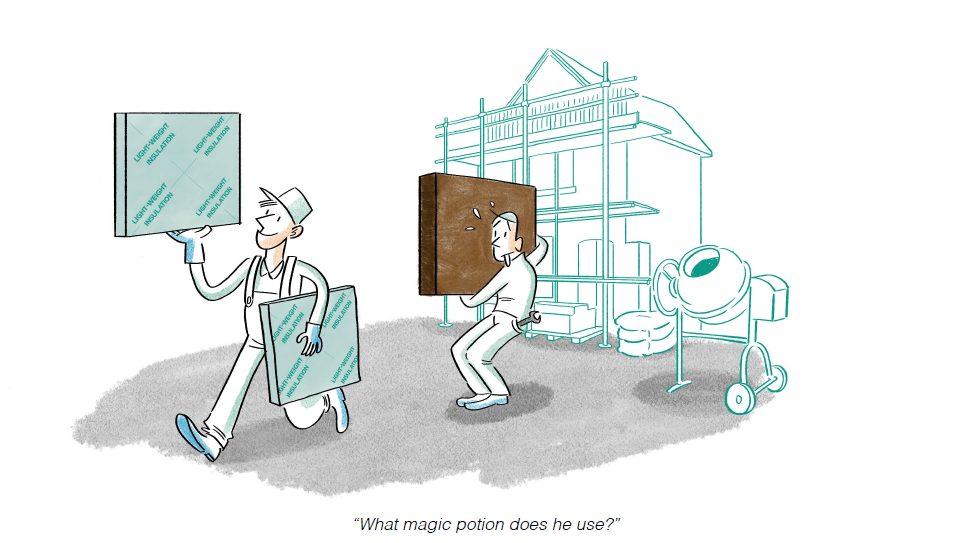 In general, plastics in construction products are lighter than their alternatives, using a lower quantity of material for the same application. As a result, fewer resources are needed in the manufacturing process and less waste will be created by the end of the product life.
Plastic's flexibility, durability, low weight and performance make it the sustainable choice for construction. Using these materials is essential to reducing Europe's greenhouse gas emissions. It is also essential to achieving a more resource-efficient, circular economy. By choosing materials that are longer-lasting and high-performing, we can reduce the impact buildings have on the environment and build a more sustainable Europe.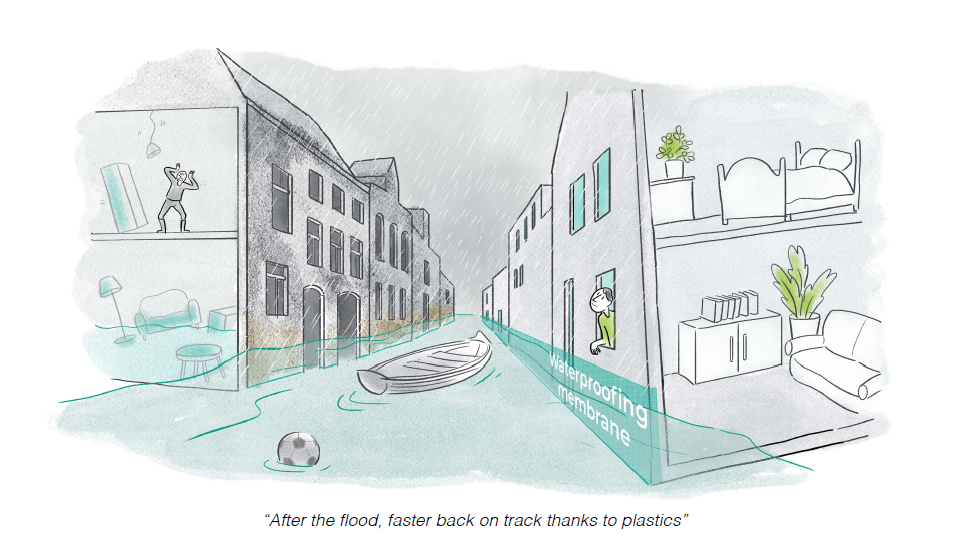 To learn more about the multiple benefits of plastics in construction, refer to the PlasticsEurope brochure, Plastic Insulation – a sustainable solution.
Circularity – End of Life of plastics construction materials
Construction and demolition waste, together with a large quantity of excavation waste, accounts for 25%–30% of all waste generated in the EU [1] and causes about 2% of the overall environmental footprint of a building [3]. A product's end of life is an important topic in the construction sector, particularly because plastic products at their end of life can still be valuable resources. The members of the Modern Building Alliance consider plastic to be too valuable to end up in the environment. At the end of their life, plastics must be collected and recovered, so they can be recycled to become other products, transformed into chemical raw materials or used as a source of energy instead of virgin fossil fuels.
The objective of the broad plastics industry is to achieve zero plastics sent to landfills and 100% recovery of plastic waste (read more about - for instance - the zero plastics to landfill commitment by PlasticsEurope). Massive efforts are necessary to ensure waste collection and our industry targets a world free of plastic waste (read more about the work of the Alliance to End Plastic Waste). Our industry is also committed to increasing the uptake of recycled plastics in newly produced materials while maintaining product quality and safety (read more about - for example - the work of the Circular Plastics Alliance).
While building and construction represents around 20% of the demand for plastic materials, it currently generates only 6%3 of plastic waste because of its long service life. Plastics represent a limited fraction of the total building and construction waste. Nevertheless, Modern Building Alliance members have undertaken strong efforts to enhance the recovery and regeneration of their products at the end of their service life.
To do so, the development of new value chains and practices is needed across all phases (deconstruction, sorting and recycling).
You can find more information about the activities of our members on circularity on their website:
--------
[1] European Commission, "Construction and Demolition Waste (CDW)", August 2018, http://ec.europa.eu/environment/waste/construction_demolition.htm
[2] Nemry and Uihlein, "IMPRO-Building - Environmental Improvement Potentials of Residential Buildings", 2008, JRC EC
[3] "Plastic waste, recycling, energy recovery and disposal from building & construction in Europe 2018", report elaborated by Conversio for PlasticsEurope
Improving Fire Safety | Fire Safety in High- and Medium-Rise Buildings
RELATED CONTENT