Fire Safety Skills & Competencies
Ensuring the fire safety of buildings is a complex issue requiring competent professionals with clear roles and responsibilities, involved during the buildings' design, construction and maintenance phases. The Modern Building Alliance believes that developing knowledge and competencies is a necessity, in particular to accompany the sustainable transformation of the building stock.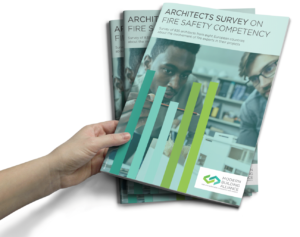 In June 2020, the Modern Building Alliance commissioned USP Marketing Consultancy to launch a survey targeted at architects from eight European countries (Belgium, France, Germany, Italy, The Netherlands, Poland, Spain and the UK). The survey aimed to discover how fire safety competencies are considered during the building design phase. A sample of 835 architects, working in offices composed of at least two architects excluding smaller projects, responded. The majority are primarily focused on residential buildings and engaged in both new builds and renovations.
Fire safety must accompany the energy transition and sustainable transformation of the building stock
If the EU is to reach its climate objectives, the energy transition and the overall ambition of the European Green Deal must succeed. The building stock must transform into highly energy efficient buildings, powered by renewable energy sources. And in doing so, it must be resource efficient. Achieving net zero carbon and circularity for buildings is the ambition. It requires many solutions, such as high-performance insulation, resource efficient materials, renewable energy and energy storage technologies.
There can be fire risks but also opportunities associated with these energy and resource efficient solutions. That's why we must develop knowledge and competencies related to fire safety that will enhance a safe energy transition that will benefit all EU citizens, which is essential for all industries contributing to sustainable construction.
There is a need to improve fire safety competency
In the last decade, academics have warned that "traditional fire safety practices (and in many cases practitioners) are no longer fully equipped to satisfy the needs of the built environment that drivers other than fire (e.g. energy, sustainability, architectural innovation, structural optimisation, etc.) continue to create" [1]. They highlighted that "those charged with fire safety design of buildings are rarely (and often insufficiently) involved in the iterative process [of building design]" [2]. Stakeholders have called for support for both research and educational programmes in fire safety engineering, as a distinct competency-based discipline [1]. They have also called for the integration of fire safety designers into building design teams [2].
The tragic Grenfell fire in the UK was an indicator of what has been described by Dame Judith Hackitt[1] as a system failure of the construction sector underpinned by ignorance, indifference, lack of clarity on roles and responsibilities, and inadequate regulatory oversights and enforcement tools [3]. Although Dame Judith's analysis was focused on England, it can be assumed that most of these issues also arise in other countries and regions. The need to work on roles, responsibilities and competencies of fire safety professionals involved in design, construction and maintenance or inspection of buildings is a constant that we have also identified in our B.I.O. framework (B.I.O. stands for Building - Installations - Organisational requirements) [4]. The need to "re-examine the role of fire safety engineers and to improve their competence through improved fire safety engineering education and training, as well as proper accreditation processes" is also stressed by the Warren Centre, in an Australian context, taking a broader view of the state of fire safety engineering education internationally [5].
Fire safety engineers or experts should be involved in building design
Analysing the competency issue in building design, Dr Graham Spinardi and Dr Angus Law from the University of Edinburgh proposed "a more systemic solution whereby it should be a requirement that a fire safety engineer signs off all fire safety designs." [6] For buildings that follow a prescriptive route, "the fire safety engineer need only check that the guidance has been applied correctly and used in an appropriate manner, whereas for more complex buildings they may act as a design integrator, bringing in other fire safety specialists as necessary". The authors claim that "the designation 'fire safety engineer' must become a protected profession through government legislation". At the same time, they call for measures to be put in place "to ensure that accredited fire safety engineers have adequate levels of competence and that existing fire safety engineers are examined as to their competence". Finally, they consider that "a revision to the legislation should also make it explicit that the fire safety engineer who signs off a design is liable for the consequences of the design."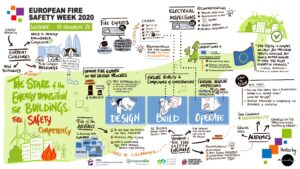 Access the outcomes of the online event held during the European Fire Safety Week 2020:
"The Stake of the Energy Transition for buildings - Fire Safety Competency"
What is Fire Safety Engineering?
Interview with Professor Guillermo Rein, Imperial College of London during the EU Fire Safety Week 2019
Building inspections can reduce fire safety failures
The frequent reporting of fire safety failures in existing buildings also highlights the need to organise building inspections. Dr Spinardi also stressed the need to "establish a legal framework to ensure that fire risk assessors have appropriate qualifications" [7]. Another illustration of this need is the number of electrical fires per dwelling (the most important cause of fire after smoking) that is 24 times higher in Europe than in Japan [8]. The main reason for Japan's success is the mandatory inspection of electrical installations every 4 years, an obligation that does not exist in Europe. In this context, we have already highlighted that renovation of the existing building stock brings a clear opportunity to review and improve the basic fire safety features of buildings (more) [9].
The way forward
Fire safety science, engineering and education must develop further.
All stakeholders must come together to define which roles (fire safety designers, fire safety inspectors, etc.) must be fulfilled and which competencies this requires. Accreditation in fire safety must be developed and enshrined in law in order to get the right professionals to fulfill these roles (fire safety design, fire safety inspection, etc.).
As the Modern Building Alliance, we advocate that the EU should play a central role in supporting these necessary developments. Find out more 
#FireSafetyCompetency
References
[1] M. Woodrow, L. Bisby, J.L. Torero (2013): A nascent educational framework for fire safety engineering, Fire Safety Journal, https://doi.org/10.1016/j.firesaf.2013.02.004
[2] C. Maluk, M. Woodrow, J.L. Torero (2017): The potential of integrating fire safety in modern building design, Fire Safety Journal, March 2017, https://doi.org/10.1016/j.firesaf.2016.12.006
[3] J. Hackitt (2018): Building a Safer Future Independent Review of Building Regulations and
Fire Safety: Final Report https://assets.publishing.service.gov.uk/government/uploads/system/uploads/attachment_data/file/707785/Building_a_Safer_Future_-_web.pdf
[4] Q. de Hults, M. El Houssami (2019): A European framework to ensure fire safety in taller buildings, 3rd International Symposium on Fire Safety of Facades, https://www.modernbuildingalliance.eu/b-i-o-framework
[5] P. Johnson, S. Kip (2019), Fire Safety Engineering education report, The Warren Centre, https://thewarrencentre.org.au/project/fire-safety-engineering/
[6] G. Spinardi, A. Law (2019), Beyond the stable door: Hackitt and the future of fire safety regulation in the UK, Fire Safety Journal, https://doi.org/10.1016/j.firesaf.2019.102856
[7] G. Spinardi, J. Baker & L. Bisby (2019): Post construction fire safety regulation in England: shutting the door before the horse has bolted, Policy and Practice in Health and Safety,  https://doi.org/10.1080/14773996.2019.1591040
[8] Forum for European Electrical Safety (FEEDS) (March 2020). White paper: Residential Electrical Safety. How to ensure progress https://www.iut.nu/wp-content/uploads/2018/06/Feeds-Forum-White-Paper-2017.pdf
[9] Modern Building Alliance (2018): Fire safety: what can building renovation bring?
https://www.modernbuildingalliance.eu/fire-safety-what-can-building-renovations-bring/
[1] Chair of the Independent Review of Building Regulations and Fire Safety, which was commissioned by the British Government following the Grenfell Tower fire.