SMOKE TOXICITY & SMOKE MANAGEMENT
A key goal of the fire safety strategy of a building is to avoid exposure to smoke. All smoke is toxic, regardless of its origin or composition, and smoke inhalation remains the primary cause of death in fatal fires across Europe. The solutions to limit smoke exposure have helped reduce fire fatalities, and their implementation can be continuously improved. A holistic approach is most effective to keep smoke intoxication low, starting with prevention and detection and continuing with smoke compartmentation and management.
Protecting people from smoke exposure and toxicity
Despite the progress of fire safety measures across Europe in recent decades, fire fatalities still occur, primarily as a result[1] of smoke intoxication from carbon monoxide (CO) and, to a lesser extent, other gases.
Smoke production depends on a variety of combination of factors with the likeliness of intoxication and asphyxiation increasing with the length of exposure. Regardless of its origin and exact composition, all smoke is toxic and poses a serious threat to the health of building occupants and firefighters. As such, their protection should be the utmost priority. A relatively small fire inside a building will still generate a lot of smoke, even when limited to the object of origin, and this smoke can easily spread beyond the room of origin if protection measures are not in place.
Reducing exposure to smoke is a key objective of fire safety strategies in buildings and follows the 7 layers of fire safety in buildings.
Prevention is the priority. No fire, no smoke.
Detection of fires as early as possible is achieved by installing adequate smoke detectors and alarms in sufficient numbers. This relatively limited investment plays a vital role in allowing timely reaction and evacuation.
Early suppression via automatic systems (sprinkler or water mist) or manual extinguishers will control or extinguish the fire and help reduce the smoke generated.
Evacuation routes must receive particular attention to remain smoke-free. Smoke management systems such as smoke extractors, smoke dampers or over pressuring systems function to avoid smoke exposure and entrapment during the evacuation.
Compartmentation aims to contain both the fire and the smoke in the compartment of origin. Smoke compartmentation is particularly important and is achieved by correctly sealing joints and penetrations. It can be complemented with active smoke management systems.
Firefighting: Smoke is the worst enemy of firefighters. Their protection equipment protects them from harmful exposure. Moreover, their firefighting strategies aim to protect occupants from smoke propagation and exposure. They can use special equipment such as smoke blocking devices and smoke control fans and even provide fire escape hoods to occupants when evacuation procedures may take them through a smoke-filled area.
All these measures intend to limit the harmful risk of smoke exposure and inhalation. Some of them, such as smoke alarms and detectors, are easily and readily implementable measures that can and should be more widely used to further reduce the number of fire fatalities.
The European Commission confirms that regulating the smoke toxicity from construction products would not be justified
The European Commission, in charge of the Construction Products Regulation (CPR), investigated the issue of smoke in 2017 , with the particular angle of toxicity of smoke from construction products involved in a fire. This wide-ranging study recognised that all smoke is toxic (see the second conclusion of the study), and the Commission concluded that it is not justified to regulate construction products based on this aspect as many items contribute to smoke toxicity starting from the building content.
As some experiments have shown, by the time construction products like insulation are involved in a fire, the smoke exposure from the burning contents of the building would already be fatal. The reaction to fire classification of construction products already covers the rate of smoke production. The different layers of fire safety must play their role to protect occupants from any smoke.
Smoke management is key to limiting the damage of a fire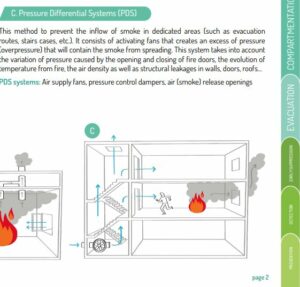 The current strategy for avoiding smoke exposure is the most effective fire safety approach. Since all smoke is toxic, any approach focusing on toxicity of the smoke would have to cover all items that could contribute to a fire, i.e. all the contents of the building (furniture, fabrics, fittings, fabrics, electronics, books and papers, decorative items and many more). Moreover, different fire scenarios influencing the burning behaviour and smoke generation would have to be considered. This would be challenging, if not impossible, in practice and a very lengthy and costly process.
Discover our factsheet on smoke management
The European Commission study also concluded that a significant data gap remains. Statistics on fires and fire fatalities collected in Europe tend to be incomplete and difficult to compare across countries as no Europe-wide statistics exist. As the study noted, fire victims and sources can only be understood through common reliable data.
The collection of harmonised fire statistics at the EU level is needed to assess not only the causes of fatalities, including those occurring through smoke toxicity, but also the effectiveness of possible safety approaches, regulatory or otherwise. A major follow-up of the study is, therefore, the pilot project on fire statistics initiated by the European Parliament.
---------
[1] 34% to 80% depending on available data