IMPROVING FIRE SAFETY
Safe and sustainable construction is a priority in our industry. The Modern Building Alliance explains why a holistic, data-based and performance-oriented approach is key to advancing fire safety and aims to inspire improvements in fire safety practices across Europe.
As such, we are fully committed to working alongside regulators, public authorities and fire safety professionals to enhance the fire safety of buildings.
Enforcing the existing legal framework
The fire safety of buildings depends on various elements and, therefore, requires a holistic approach that addresses both preventative and constructive fire protection.
Preventative fire protection focuses on avoiding fires, whereas constructive fire protection includes fire performance of materials and systems solutions for the building and its envelope.
Therefore, fire-safe buildings require approved construction materials and products that are installed and maintained responsibly and in accordance with all regulations. At the EU level, there is a rigorous and harmonised testing framework in place to ensure national authorities set requirements for construction products in their market.  Plastics are combustible, like many other organic materials widely used in construction (timber, wood fibre, cellulose, composites, etc.), it is compatible with fire safety. They can be used safely in their intended building applications, as shown, after undergoing thorough performance-based testing.
Fire-safe buildings need construction materials and products to be approved, installed and maintained responsibly.
According to the European Commission, there is no evidence to suggest that the current framework is ineffective, even in environments where there is increased penetration of modern materials. Find out more about fire statistics.
The B.I.O. framework (for Building, Installation and Organisational requirement framework) proposes a comprehensive and structured list of elements to be considered by EU member states in their regulatory approach to ensure fire-safe buildings. This framework aligns with the EU subsidiarity principle and has been presented during one of the European Commission's first meetings of the Fire Information Exchange Platform.
Fire disasters have taught us the importance of complying with existing regulations, manufacturer's instructions and the necessity of having national competent authorities to ensure laws are adhered to.
Getting the right fire safety knowledge and competencies involved in all stages of the building's lifetime
Ensuring the fire safety of buildings is a complex issue which requires competent professionals with clear roles and responsibilities to be involved during the buildings' design, construction and maintenance phases. The Modern Building Alliance pledges further development of fire safety knowledge and competencies as it is a necessity, in particular to accompany the sustainable transformations of building stock. Additionally, the Modern Building Alliance advocates for potential fire safety failures in existing buildings to be identified and corrected via regular building inspections. Learn more about the developments necessary to improve fire safety competencies.
Why do we need plastics in construction?
Plastics offer a myriad of benefits in their application. Plastics are efficient, durable, weather-resistant, low-maintenance, cost-effective, incredibly light and design flexible. These qualities make them ideal for construction and an essential component of the transition to a low-carbon economy, an increase in the energy efficiency of buildings, reaching international climate objectives and complying with European Building Directives.
Did you know, over its lifetime, plastic insulation saves more than 200 times[1] the energy used in its manufacturing? Plastics insulation materials have very good performance/weight and performance/volume ratios, reducing the weight and volume of materials needed to achieve insulation performance, resulting in resource and transport savings.
Learn more about the environmental sustainability of plastics materials.
Because of their numerous benefits, plastics are widely used in construction. Since they are combustible, like various other organic construction materials (timber, wool…), our industry takes fire safety very seriously and looks to promote a holistic, performance-based and material-neutral approach to ensure fire safety in buildings.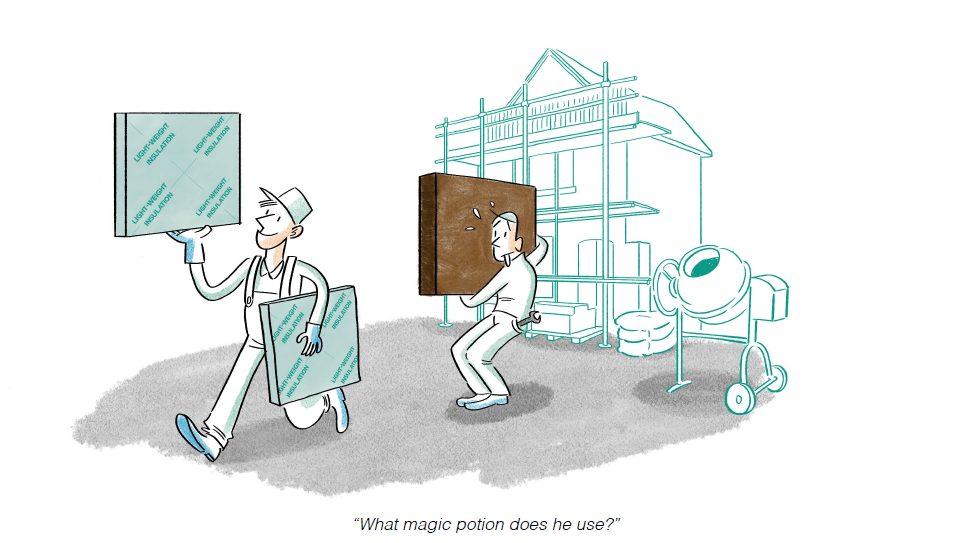 Collecting more comprehensive and harmonised data will help drive policy action
Fire safety statistics are gathered in numerous ways across Europe. Of the 28 EU countries, only ten have complete datasets of fatalities of 'all fires' between 2000 and 2010, while 15 EU countries claim 'almost complete' datasets.
Existing national fire statistics fail to give a holistic view of fire casualties or incidents per country, although they do provide suitable indications of relevant fire safety concerns for each country.
Presently, there is no Europe-wide standard methodology for gathering and analysing data related to fire and fire safety. Consequently, the EU has no common data on the topic. Fire casualties and sources can only be fully analysed using common reliable data.
The Modern Building Alliance advocates for compiling a collection of fire safety statistics to be included in the Eurostat mandatory programme. A welcome first step is currently in process with the Pilot project on data collection of fire causes financed by the European Parliament. Read about it here.
There is room for improvement with easily and readily implementable solutions
To our knowledge, less than half of the EU Member States (more details) have made smoke detectors in buildings mandatory. Smoke alarms provide a critical early warning for fire, allowing additional time to escape. Fire statistics in Sweden reveal that two-thirds of fatal fires between 2000 and 2004 occurred in homes with none or non-functioning smoke alarms.
As shown by statistics, prevention is the key.
Public authorities should measure the importance of training and public awareness. Better communication on the usefulness of detectors, the need for their maintenance, how to behave in a fire and respond to alarms is essential. This can be easily improved by strong EU-wide communication campaigns. The European Fire Safety Week is a good opportunity to inspire similar national, regional, local and community initiatives.
A European Action Plan
The European Fire Safety Alliance (EuroFSA), an independent network of fire professionals (firefighters, academics, researchers and the Dutch Burn Foundation) published an 'Action Plan of 10 actions' to improve fire safety across Europe. The Modern Building Alliance fully supports EuroFSA's commitment and contribute to its activities with a large range of other stakeholders.
EuroFSA also leads the European Fire Safety Week, a milestone for the Fire Safety community, which takes place every November.
---------
[1] https://www.plasticseurope.org/application/files/7815/1714/0578/brochureinsulationdec10.pdf