A step forward to a European approach for façades performance assessment
6 May 2020
A consortium composed with 5 partners (RISE (SE), BAM (DE), Efectis (FR), EMI (HU) and the University of Liège (BE) is chosen by the European Commission to finalize in 2 years, a European Approach to assess the performance of façades.
We announced it last September: the European Commission published a call for tender to deliver the 'alternative method' to assess the performance of façades. Having a harmonised method for testing façades is important as in the specific case of taller buildings, the performance of façades is a prime element of the building design and therefore, it must be tested as a system and not only as individual components.
A main tasks of the project is to organize an experimental round robin to assess the repeatability and reproducibility of the proposed method, which will allow to fine-tune the method and classification. Ultimately, the European approach for façade performance assessment should be used by the industry to demonstrate the fire performance of their products and systems, and by national regulators to define performance requirements according to the building types.
Members of the Modern Building Alliance have a long time experience with façade tests and we will contribute as stakeholder to the project.
More info: https://www.ri.se/en/what-we-do/projects/finalisation-european-approach-assess-fire-performance-facades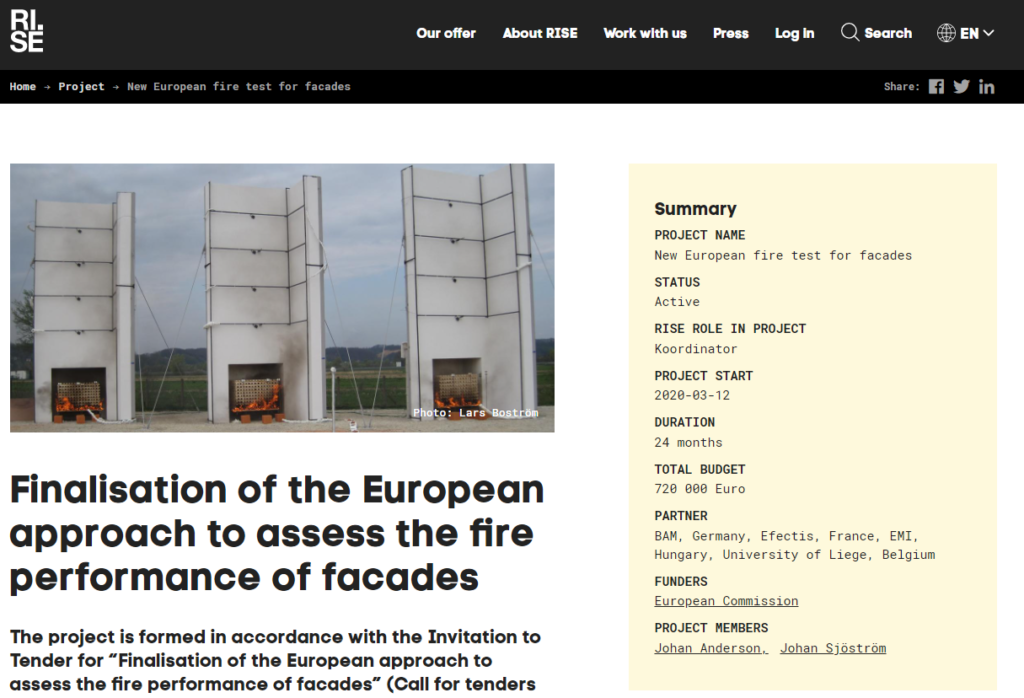 Credits: Screenshot of RISE website