835 architects consulted to measure their request for fire safety competencies
19 November 2020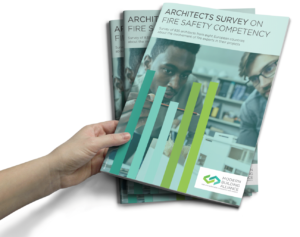 In June 2020, the Modern Building Alliance commissioned USP Marketing Consultancy to launch a survey targeted at architects from eight European countries (Belgium, France, Germany, Italy, The Netherlands, Poland, Spain and the UK). The survey aimed to discover how fire safety competencies are considered during the building design phase. A sample of 835 architects, working in offices composed of at least two architects excluding smaller projects, responded. The majority are primarily focused on residential buildings and engaged in both new builds and renovations.
"Fire safety must neither lag behind, nor impede the renovation wave. It must accompany it. That's why we must define clear role and responsibilities for fire safety during projects and ensure the involvement of the adequate level of fire expertise. Our architects survey shows that there is room for improvement and that an EU wide analysis would be useful" 
Quentin de Hults, Executive Chair of the Modern Building Alliance
Building design is a complex undertaking that must combine various expertise. As such, architects can request the involvement of specific experts, such as fire engineers, energy experts or sustainability experts, in their project.
Fire safety in particular is a complex issue requiring competent professionals with clear roles and responsibilities to be involved during a building's design, construction and maintenance phases. Recent tragic events have highlighted how a lack of consideration for fire safety or a lack of compliance with fire safety regulations can have dire consequences.
Academic analysis has emphasized the need to improve fire safety competency and increase the involvement of fire safety expertise in building design and inspection. Moreover, studies have under-scored the need to improve the definition of competencies, enhance education and accreditation and establish a legal framework for the involvement of accredited fire safety professionals in building design and inspections (more information and references available here).
Our Analysis
We assume the involvement of a dedicated fire expert during the design phase of a construction or renovation project is indicative of the consideration paid to fire safety. Fire safety experts help architects ensure the necessary level of fire safety, along with all other safety and performance aspects, required in a project. With this in mind, we see room for improvement in the level of involvement of dedicated fire experts, particularly in housing renovations, as they are currently less involved than energy experts. This is crucial in light of the fact that most fire fatalities happen in residential buildings and that the EU planned renovation wave will particularly tackle housing.
The significant national differences suggest that analysis of the situation in each country regarding the legal requirements, the level of architects' fire safety knowledge and the availability or recognition of fire experts would produce intriguing results. There is a need for further analysis and discussion on what type of projects fire experts should be involved and what level of competency fire experts and architects need.
This should be in tandem with fire safety responsibility. While allowing for EU countries to have various models of fire safety, fire safety responsibility should be clearly designated, which seems currently not the case in some countries.