European Parliament's EPBD report touches on fire safety
10 November 2021
Yesterday, the European Parliament' Committee on Industry, Research and Energy (ITRE) adopted the Implementation Report of the Energy Performance of Buildings Directive (EPBD) by 49 votes in favour, 11 against and two abstentions. The report looks at how the current EPBD has been implemented in EU Member States and what could be improved. It repeats the central role buildings will play to reduce CO² emissions, tackle energy poverty and support the recovery of local economies. The report still has to be voted in Strasbourg during the Plenary of December or January.
The text covers a large range of considerations and includes some topics of particular interest for fire safety:
 Amendment 8d on page 7:  […]'calls on Member States to develop an electrical inspection regime, since 30% of domestic and 75% of domestic accidental fires have an electrical source15;  (EPP 178)'…
Electrical safety as effective preventative measure
This recommendation refers to the White paper published by the Forum for European Electrical Domestic Safety (FEEDS, 2021) which states that in Japan, the number of fires has been reduced by close to 90% since inspections became mandatory in 1960's.
The Modern Building Alliance welcomes this recommendation and fully supports the development of electrical inspection regimes. It proves that preventative measures effectively impact the number of fire casualties. Prevention is the very first layer of the 7 layers for fire in buildings which highlights the importance to address fire safety in a holistic manner starting with prevention, detection, early suppression, evacuation, compartmentation, structural safety and firefighting.
Smoke management is a key element of an efficient fire safety strategy
The report also addresses the question of smoke management in case of a fire.
Amendment 8d on page 7:  '[…] believes that the European building stock renovation should integrate electrical safety checks and upgrades and ensure sufficient ventilation for smoke in case of fire (EPP 178)'
All smoke is toxic and preventing occupants from being in contact with smoke will ensure an effective, safe and quick evacuation. Fire and HVAC engineers are highly qualified to secure buildings to be properly designed and equipped to be safe in case of a fire. The Modern Building Alliance advocates for the involvement of skilled and competent professionals to be involved in building design, renovation and also maintenance of buildings. It is the best way to ensure the building to be compliant, while meeting thermal performance, comfort and safety requirements.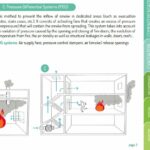 Smoke management is another topic covered in the EU Fire Safety Guide in the layer related to compartmentation. In addition,  a full factsheet on Smoke management is accessible here.
The Modern Building Alliance has been calling since its founding for a holistic approach to fire safety of building and we are delighted to see some of our key recommendations being taken over by the ITRE Committee.